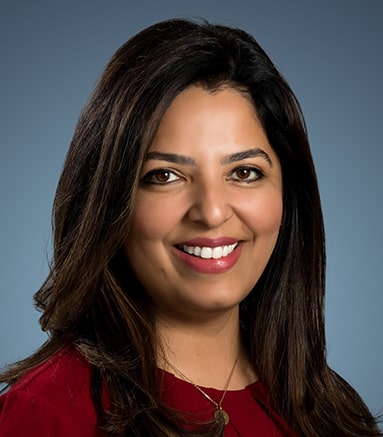 Harshita Paripati, MD
Medical Oncologist & Hematologist
Location: 1501 N Gilbert Rd, Suite 200, Gilbert, AZ 85234
Phone: (480) 530-4220
Dr. Paripati is a Board-certified medical oncologist who treats patients with all cancer types and blood disorders. She is renowned for her expertise in the management of thoracic (lung and esophageal) cancers. She has been practicing in Arizona since 2009. She completed her fellowship in Hematology & Oncology at Mayo Clinic Arizona and has the distinction of being selected as the very first fellow in the program. She was on staff at Mayo Clinic from 2009-2019. She served as Assistant Professor at the Mayo Clinic College of Medicine, as well as Program Director for the Hematology and Oncology fellowship program from 2015-2019. In her role, she also served as the Vice Chair of Education in the Division of Hematology & Oncology at Mayo Clinic, and played an important role in the education of residents and fellows.
Dr. Paripati is the recipient of numerous awards and honors, including the American Society of Clinical Oncology (ASCO) Merit Award 2008, and an educational grant from the Multidisciplinary symposium in Thoracic Oncology 2008. She is a member of American Society of Clinical Oncology, American Society of Hematology and International Association for the study of Lung Cancer.
Dr. Paripati is well known in the field of lung cancer and other thoracic malignancies. She published several peer reviewed articles and abstracts, and has presented at various national and international conferences including the World Conference on Lung Cancer (WCLC) and American Society of Clinical Oncology (ASCO). She authored a textbook chapter on the management of lung cancer. She is also actively involved in clinical research focusing on improving therapies for various cancers.
Dr. Paripati strongly believes in providing personalized cancer care for every patient, and being there for them through their cancer journey. When not at work, she enjoys spending time with her husband and two sons. She enjoys reading, traveling and connecting with friends.
"My philosophy is simple: I strive to do the very best I can for every patient that I see. I aim to provide high quality, personalized care based on cutting edge research. I love connecting with patients and their families and being there for them through their cancer journey. I also place emphasis on quality of life, and it is very important to me to understand each patient's goals and wishes."
Education & Training
Board Certification
Medical Oncology and Internal Medicine
Fellowship-Hematology/Oncology
Mayo Clinic Arizona in Scottsdale
Residency-Internal Medicine
Baptist Medical Centers in Birmingham, Alabama
Medical School
Osmania Medical College, NTR University of Health Services in Hyderabad, India
Lung Cancer – Educational Video