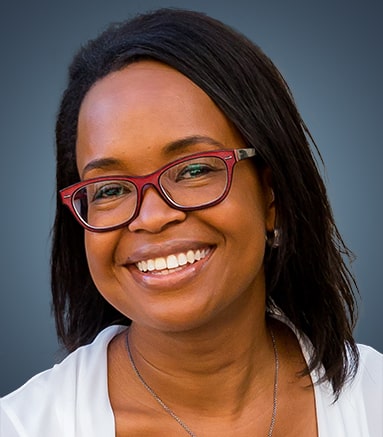 Shana N. Wingo, MD
Gynecologic Oncologist
Location: 2925 W Rose Garden Lane, Suite 110, Phoenix, AZ 85027
Phone: (623) 265-7215
Dr. Wingo is a Board-certified gynecologic oncologist specializing in a variety of malignancies including cervical, uterine, ovarian, vulvar and rare gynecologic malignancies. Additionally, she performs complex surgical procedures for benign gynecologic conditions. She serves on the Society of Gynecologic Oncologists Committee for Diversity, Inclusion and Health Equity, as well as the Communications Committee. She is also a member of The American Society of Clinical Oncology, NRG Oncology, The American College of Surgeons and The American College of Obstetrics and Gynecology. Dr. Wingo has been voted Top Doctor in Phoenix Magazine several years in a row and speaks conversational Spanish.
Dr. Wingo has served on several national committees for process improvement in gynecologic oncology and has participated in numerous peer review publications, guest lectures, abstract presentations and has trained medical residents at Banner University Medical Center Phoenix. She currently serves as a Clinical Assistant Professor at the University of Arizona Phoenix Medical Center.
After completing her medical training, Dr. Wingo came to the Valley and has practiced gynecologic oncology for more than 10 years. She is passionate about establishing relationships with her patients to maximize their care. This care encompasses the entire scope of the specialty, including surgical management, chemotherapy, surveillance and survivorship once treatment is completed. Dr. Wingo has performed over 2,000 robotic cases and has been both a proctor and educator with the DaVinci surgical platform.
With a strong emphasis on treating every patient individually, Dr. Wingo and her team walk with patients throughout their cancer journey. When not at work, she enjoys spending time with her husband and her sons.
"As my patients experience new, unexpected and often overwhelming changes in their lives, I want to be there with them. This journey is about relationships, collaboration, honesty, trust and compassionate care."
Education & Training
Board Certification
American Board of Obstetrics & Gynecology, Gynecologic Oncology
Fellowship – Gynecologic Oncology
University of Texas Southwestern Medical Center at Dallas
Residency
University of Texas Southwestern Medical Center at Dallas
Medical School
University of Texas Southwestern Medical Center at Dallas