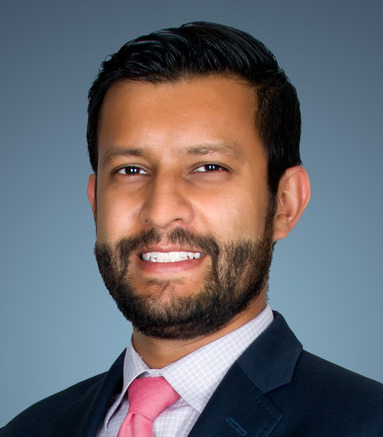 Samrat Sanghvi, MD
Radiation Oncologist
Location: 1876 E. Sabin Dr. Suite 10, Casa Grande, AZ 85122
Phone: (520) 836-9800
Dr. Sanghvi is a radiation oncologist who treats a wide range of cancers as well as benign conditions. He has experience with most types of cancer and has completed research in brain metastases, pancreatic cancer, bladder cancer, head and neck malignancies and prostate cancer. He uses the latest radiation oncology technologies and has extensive experience with Stereotactic Body Radiation Therapy (SBRT) treatments.
Dr. Sanghvi earned his Doctor of Medicine at Georgetown University School of Medicine in Washington, DC, where he received the Warwick Evans Radiation Oncology Award. He then completed an internship in internal medicine at the Virginia Commonwealth University in Richmond followed by a residency in radiation oncology at Loma Linda University in California. While at Loma Linda he served as Chief Resident of the Radiation Oncology program. He also had the opportunity to see international radiation oncology both in Germany and more recently volunteering in a radiation oncology clinic in Nepal.
Dr. Sanghvi chose to become a physician to be able to provide hands-on care to help patients and their families. He enjoys the analytic workup of patients' issues and delivering high-quality care and data-driven treatments with the intent of curing the cancer, while maintaining focus on caring for the whole person.
Dr. Sanghvi was born in Sudan but is of Indian ethnicity. He grew up in Louisville, Ky., and has also lived in North Carolina and Illinois. He attended the University of Southern California for his undergraduate degree and decided to move to the Casa Grande area for the location, weather, and endless outdoor activities. Dr. Sanghvi's wife is also a doctor, specializing in infectious disease. He enjoys spending his time off with friends and family, traveling, and doing outdoor activities such as hiking.
"I like to approach patients by educating them as much as possible. Many times, patients get lost in the details and lose sight of the big picture with their cancer care. Whenever possible, I try to give them the necessary resources and information to make the best of a bad situation."
Education & Training
Residency – Radiation Oncology
Loma Linda University, Loma Linda, CA
Internship – Internal Medicine
Virginia Commonwealth University, Richmond, VA
Medical School
Georgetown University School of Medicine, Washington DC
Bachelor of Science in Business Administration
University of Southern California, Los Angeles, CA
Radiation Oncology – Educational Video