Brenda's Story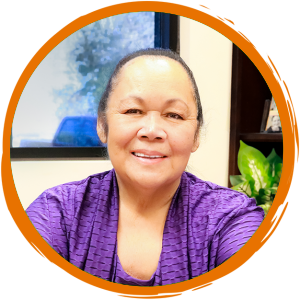 "I googled it."
That is what Brenda Sarmiento did when she noticed something different about her body. The 71-year-old Coolidge, Arizona breast cancer survivor did what most people do when they have a question – she went online.
"I noticed a discharge from my nipple," Sarmiento said. "Of course, I'm the Google Queen, so I googled it and thought it was probably just a clogged duct, but I thought I'd better see my primary care physician." Good thing she did. Brenda's PCP performed a mammogram and ordered a biopsy, which tested positive for breast cancer.
"I was diagnosed with breast cancer in the early summer of 2018," she said. I was surprised because I just had a mammogram 10 months prior." Brenda was referred to Ramon Mourelo, M.D. with [wpautoterms company_name] and she recalled being at ease with him from the very beginning.
"Dr. Mourelo is such a wonderful person," she said. "What I noticed when I saw Dr. Mourelo for the first time was that he didn't walk in with a computer and sit at a desk and type as he talked to me, he focused on me. There was another person that took the notes so Dr. Mourelo could just concentrate on me. If I had a question or needed something explained, he was right there. I felt like I was the main concern for him at that point, which made me feel confident that I was going to be able to go through the whole process and not feel alone."
After her consultation with Dr. Mourelo, it was decided that Brenda would have both her breasts removed. That decision was based on a couple of things. One, Brenda has a history of breast cancer in her family and, two, precancerous cells were found in Brenda's breast that did not have the mass.
"I always say I'm the mirror image of my mother," Brenda said. "My mother had breast cancer in her left breast and I had it in my right. I also remembered the advice my mother gave me if I was ever diagnosed with breast cancer. She repeatedly said to be sure I had a good doctor and to have both breasts removed." Recalling the advice her mother gave her, and wanting to be proactive in reducing the risk of being diagnosed with cancer in her left breast, Brenda decided to have both breasts removed. Dr. Mourelo agreed and supported her choice. When asked about her surgery, Brenda said that she was amazed at how it went and commented that the entire treatment, from the time Dr. Mourelo performed the surgery until the time she saw him afterward, was so much easier than she expected.
"Before the surgery, I was terrified because I knew what the outcome was going to be. I was going to come out not having any breasts," she said. "Dr. Mourelo, with a smile on his face, talked to me and assured me that everything was going to be fine. We also discussed reconstructive surgery and he let me know that I had lots of choices with what I wanted to do next."
After surgery, Brenda came in for her check-up and saw fellow physician, Carlos E. Arce-Lara, M.D., medical oncologist and hematologist with [wpautoterms company_name]. Dr. Arce-Lara spoke with Brenda about her follow-up treatment options, including chemotherapy and radiation therapy. They discussed each treatment in detail and what possible outcomes were associated with each. After reviewing all her options, Brenda felt like what would be best for her at the time was to receive radiation therapy. Since medical and radiation oncology were both offered at [wpautoterms company_name], it was a simple and smooth process to transition Brenda's care to radiation oncologist Ajay Bhatnagar, M.D.
"The technicians, Dr. Bhatnagar, and everyone who worked together were absolutely wonderful," Sarmiento said. "I didn't have to go to one place to see one person and another place to see another person. I didn't have to go outside of that circle. They were all talking and working together as a team to gather all the information about me and make the best-educated decision about my treatment."
When it came to her radiation therapy treatments, Brenda said it was similar to her surgery in the fact that Dr. Bhatnagar told her exactly what to expect. Not only was she kept in the loop on what was going to happen, but Brenda said that the staff told her how to take care of herself and her skin. Her treatments were not painful at all and the only side effect she experienced was minor skin irritation under one of her breasts.
Today, Brenda feels great and is continuing to improve. She is thankful she came here and feels confident that she is going to be 100% okay very soon.
"I am so happy I came here for my breast cancer treatment," Sarmiento said. "I highly recommend Dr. Mourelo, Dr. Bhatnagar, and the entire team. If you want the best treatment and to know step-by-step what is going on and who is going to be taking care of you, this is where you need to go. Come here and be a part of the family."