Jane's Story
The American Cancer Society reports that over a quarter of a million women diagnosed with breast cancer in the United States this year and almost 6,000 of those cases will be in Arizona. Even though breast cancer is the most frequently diagnosed cancer in U.S. women, survivorship rates continue to steadily increase. Thanks to advances in early detection and treatment, more and more women diagnosed with breast cancer are alive today.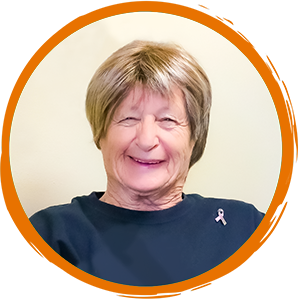 Jane Northrup-Melendrez is one of those women. Jane was diagnosed with breast cancer in early summer 2018 and today the 75-year-old Gilbert, Arizona resident is happy and healthy.
Jane's journey with breast cancer started with a bone density scan. While at her physician's office for the scan, Jane had a mammogram. She was going to have her mammogram the following year, but decided to go ahead and have it since she was already seeing her doctor. Two days later she got the call that there was a mass. A further biopsy confirmed that she had breast cancer in her left breast.
"I decided I wasn't going to do anything about it," Jane said. "I had taken care of cancer patients before and I didn't want to put my family through that. Then I was told that a lot of improvements had been made in breast cancer care so I decided to have the treatments."
Jane's primary care physician, who was located in Casa Grande, referred her to Ramon Mourelo, M.D., a board-certified surgeon with [wpautoterms company_name]. After a quick call, Dr. Mourelo's staff was able to get Jane in the same day for an appointment. Jane said that Dr. Mourelo took his time with her and explained the entire process and what was ahead of her.
During her lumpectomy to remove the tumor in her left breast, Dr. Mourelo removed some lymph nodes under Jane's arm to examine and determine the degree of her breast cancer. The lymph nodes were positive for cancer, which meant that Jane had stage 3 breast cancer that had extended beyond the immediate region of the tumor.
After her surgery, Jane had follow-up treatments at [wpautoterms company_name]. She underwent chemotherapy with medical oncologist Carlos E. Arce-Lara, M.D. and radiation therapy with radiation oncologist Ajay Bhatnagar, M.D. Jane said that her treatments were easy and she did not experience any negative or bothersome side effects afterward.
In addition to the treatment Jane received at the Surgery and Cancer Clinic, she was also taken care of through the Support Center, an organization dedicated to enhancing the quality of life for cancer patients, survivors, and caregivers by providing support programs to assist them with emotional, spiritual, and physical support. Jane received a custom wig and fitting through one of the programs offered by the Support Center.
Today, Jane Northrup-Melendrez feels great. She is happy to be done with her treatment and she has nothing but positive things to say and remember about her time at [wpautoterms company_name].
"The entire team was wonderful," Jane said. "They were absolutely loving and I don't know what I would have done without them. They saved my life."