June's Story
The National Cancer Institute (NCI) estimates that a woman born in the United States today has about a one in eight chance of being diagnosed with breast cancer at some point during her lifetime.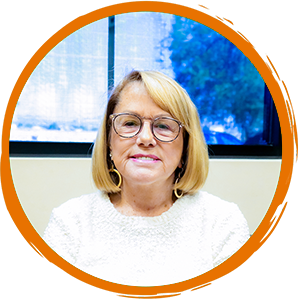 June Moore was the one in eight. The 77-year-old Casa Grande resident, who splits her time six months a year between Michigan and Arizona, was diagnosed with breast cancer on December 19, 2018.
A couple of months prior, Moore had her yearly mammogram in October 2018 and the screening came back normal. Even though the results were good, instinctively something did not feel right to June. She knew she had dense breasts, which can sometimes require additional imaging tests, and was high-risk for cancer due to a history of breast cancer in her family. She went back to her physician and expressed her concern and requested to explore things further. Her physician did not think additional scans were necessary, but he ordered an MRI. It was then discovered that she had a mass in her left breast.
After the discovery, June was sent to get an ultrasound and three biopsies. When the results of the biopsies were inconclusive, her physician sent her to a surgeon, Ramon Mourelo, M.D., for further testing. Dr. Mourelo reviewed Moore's paperwork and ordered another mammogram, an ultrasound, and five more biopsies. The biopsies came back positive for breast cancer.
"When they told me about my cancer, I felt blessed," Moore said. "The type of cancer they said I had was nothing like my sister's. I knew what she went through and it was awful."
Moore's identical twin sister had been diagnosed with two different types of breast cancer and had to undergo a double mastectomy. June was diagnosed with non-invasive ductal carcinoma in-situ, meaning that the cancer cells were confined to her ducts or lobules and had not spread.
June's surgery to get the mass removed was scheduled for January 18, 2019. The day before the surgery, Dr. Mourelo called June with some news.
"Dr. Mourelo called me at home to apologize and tell me that he was sorry, but he thought he was going to have to take my left breast off," said Moore. "He then gave me three options of what I could do next. He told me I could cancel the surgery, I could arrange for a plastic surgeon to complete the surgery with him, or I could opt for him to leave some breast and not remove the entire breast."
June was home alone on the call and knew she needed to make a decision if she was going to have surgery the next day. She decided to let Dr. Mourelo know that she trusted him as an expert, she knew he would know what to do for every possible outcome, and felt confident with moving forward with the surgery.
"Dr. Mourelo calmed me down," said Moore. "He is such a caring doctor who took his time with and explained everything very clearly so I would know what was going to happen to me. He put me at ease and I felt very well taken care of."
Surgery went well and June went home afterward, feeling no pain.
Today, June feels great and is enjoying life. She had her follow-up check with Dr. Mourelo and he was pleased with how she was doing, so much so that he said he did not need to see her again for another year.
"Dr. Mourelo and the entire staff was amazing," Moore said. "I did research on him and he is an excellent doctor, but he is so much more than that. It's not just his great surgeries, it's his personality. Some doctors you go to are in a hurry and they want to just see you and go, but not Dr. Mourelo. He sits down with you, discusses things with you, and never hurries you. He was truly wonderful."